U.S. Senator's office, police juror present framed Bill of Rights to school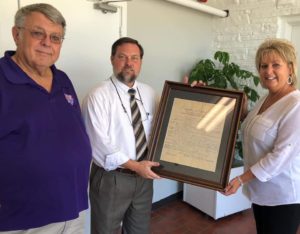 Angie Robert, at right, with U.S. Sen. Bill Cassidy's office, presented a framed copy of the Bill of Rights to Geneva Academy earlier this month.
Robert works as the Northeast (Louisiana) Regional Director for Cassidy, R-LA. Ouachita Parish Police Jury Vice President Jack Clampit, at left, joined Robert for the presentation to Geneva Academy Headmaster Ed Lang, at center.
Clampit's grandson, Dawson McKee, attends Geneva Academy.
Robert obtained a framed copy of the Bill of Rights for Geneva Academy through her work with the Ouachita Parish Republican Women's Club, which sponsors educational programs distributing historical documents to local schools.