Art class project emerges as public art installation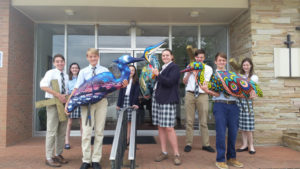 The heron sculpture at the far right, "Alebrije," was the fruit of a class project under Geneva Academy art instructor Bethany Wilkins as part of a community-wide art project in Ouachita Parish, Louisiana known as Herons on the Bayou.
Herons on the Bayou was touted as the most widespread public art project in Ouachita Parish. At a reveal in summer, more than 30 local artists including Wilkins unveiled their heron sculptures, each uniquely painted. Each heron stands at about six feet tall and will be placed in front of attractions and businesses throughout the community.
"Alebrije" was installed at the Louisiana Purchase Gardens & Zoo in Monroe, Louisiana.