Geneva Academy students return from Peru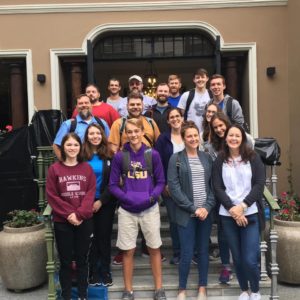 Three students from Geneva Academy as well as several alumni and faculty recently returned from a mission trip to Peru along with members of Church of the Redeemer of West Monroe.
The team's mission trip began in northern Peru, helping the Peru Mission. The Peru Mission is a 20-year-old non-profit ministering to communities in Cajamarca in the Andean Highlands and the coastal city of Trujillo. Rev. Wes Baker leads the Peru Mission.
The Geneva Academy students contributed to the mission work through two teams: one team which built a parking lot for the church and school, and another team which taught music education to first-, second-, third-, and fourth-graders.
Cameron Lang, a 10th grade student, said a number of locals were astonished to see a group of American men digging and building the parking lot.
"We talked to a lot of people who were walking by and wondering why Americans were doing the work," Lang said.  "It allowed us to show there are people willing to serve you, and you're not alone in the world."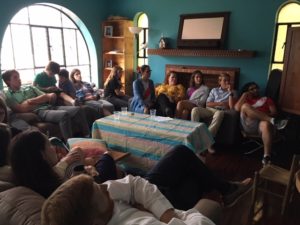 Meanwhile, Emma Barron and Sophie Booth – each 11th grade students – as well as Bronwen Maddox spent five days teaching music to about 80 children.
"They had not been taught musical education," Barron said. "We built it up from the very basics, teaching them rhythm and pitch. It was hard with the language barrier."
Booth said they modeled their music training for the children after work by Geneva Academy's K-3rd grade music instructor, Sarah Davis.
"At the end, they were walking around the school singing the songs we taught them," Booth said. "One little girl, Annie, in the second grade, loved her English class. She loved talking to me and looking at my bracelets, using English words to describe the colors. Another little boy, Louis, sang mariachi and got along with all of us. He loved the classes."
Beyond their mission work, the students each shared different observations about Peruvian culture and the living conditions faced by people in the country.
According to Barron, the health care available to people was deficient, because most of the health care remedies were based on old wives' tales.
"They also didn't have trash pick-up, so there were piles and piles of trash bags, and dogs would get into the bags, and there were mounds of trash outside peoples' homes," Barron said.  "There were sewer lines that broke and pot-holes filled with water all along the roadway, and it wasn't because of rain: the pot-holes were filled with raw sewage from the broken lines."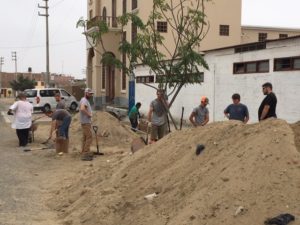 Booth said she was surprised to see how many Venezuelans had fled into Peru. Venezuela is experiencing great political unrest amid an ongoing food shortage crisis.
"You could see them sitting along the street, waiting to sell you something, anything," said Booth, referring to the candy and Q-tips offered for sale by the Venezuelan refugees. "If they had a sucker, they were going to sell you that sucker."
Lang said he was struck by how motorists in Peru drove so closely to each other.
"Everyone is driving a foot apart from each other and you could just swerve in and out, but you could see how they cooperated, everyone looking out for each other," he said.
The trip concluded with a visit to the Incan ruins at Machu Picchu.
"It was a great experience," Booth said.
Barron said the "best part" of the trip happened at Machu Picchu when Church of the Redeemer Assistant Pastor Drew Maney gave a psalm reading. Maney also is an instructor at Geneva Academy.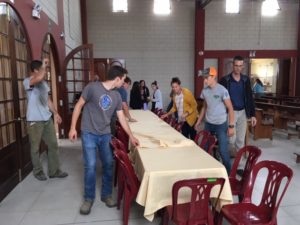 "At Macchu Picchu, Pastor Maney was reading a psalm to us, and he got sunscreen in his eyes during the psalm and he started crying profusely, because of the sunscreen," she said, laughing. "There were so many people who gathered around, because they thought he was getting emotional about the psalm."
Geneva Academy alumni Rachael Maddox, Tommy McCarty, Caleb Nash, and John Michael Turner as well as Geneva Academy Headmaster Ed Lang also participated in the mission work in Peru.