Second grade students build Egypt, Rome
Geneva Academy's Second Grade students displayed their completed history projects last month, allowing parents, grandparents and friends of the school to meet the pharaohs of Ancient Egypt and the caesars of Ancient Rome.
Some of the history projects were also edible, like an Egyptian pyramid made out of Rice Krispies Treats.
Elisabeth Brown, Second Grade teacher, said her 12 students finished the historical displays in collaboration with their parents.
"I like something the students can study that also requires parents' involvement," Brown said.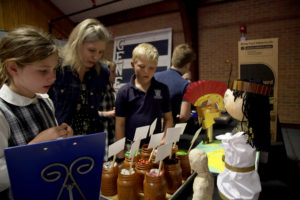 One parent's collaboration with his son led to an in-depth presentation for the class on Egyptian irrigation and the Nile, she said.
Brown's Second Grade class is studying Ancient Egypt and the Old Testament period, concluding with Egypt's fall to Rome.
"These projects help bridge that gap between abstract and concrete," she said.