Student art shines at new gallery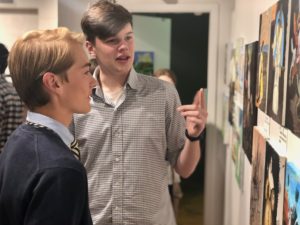 Geneva Academy students prepared more than 200 works of art to line the walls of the Rialto in West Monroe last month as part of the school's art show, "Arise, Shine, for Your Light has Come; Remembering the Radiance of the Dark Ages."
Each student, from Pre-K to Eleventh Grade, could point their friends and family to pieces of art they created during art class or as part of the school's Art Club. The students completed their work using acrylic, ink, clay, and watercolor.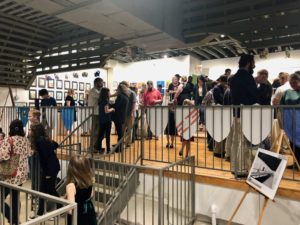 Geneva Academy was the only elementary and secondary school in the region to feature its students' work in an art gallery during the April Downtown Gallery Crawl. The Downtown Gallery Crawl is a bi-monthly event held in the downtown areas of the Twin Cities (Monroe and West Monroe). Besides Geneva Academy's art show, there were nine other art galleries featuring work from local artists.
Bethany Wilkins, Geneva Academy's art teacher, said the art show's theme called for students to re-evaluate the common perception of the Middle Ages as a dark, superstitious period.
One exhibit at Geneva Academy's art show featured several students' paintings of a bible verse in insular script, uncial script and gothic script. Wilkins described insular script as a minuscule font developed in Celtic traditions that later spread in use throughout Europe. The Book of Kells, an illuminated manuscript of the four Gospels, featured insular script.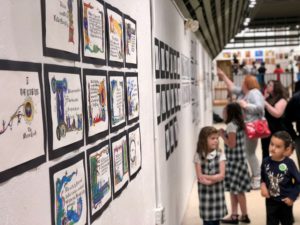 "At first, I thought we could use feathers for quills to draw the script, and I talked to the zoo to see if we could get some feathers, but we later found that reeds also could be used," she said. "So we found some skinny bamboo and cut it, shaped the quills and trimmed them. Some of the art work you saw were done with reed pens or nib pens, with students dipping their pen into the ink and drawing the font for their illuminated manuscripts of a particular Bible verse."
Geneva Academy's show also was the first art show in the newly converted space at the Rialto. Previously known as the Rialto Antique Market, the Rialto is one of many antique gift shops in the city's Antique Alley. In partnership with University of Louisiana-Monroe art assistant professor Brooke Foy and ARROW Public Art, the owners of the Rialto recently began transforming the space into an art gallery and visual arts workshop.